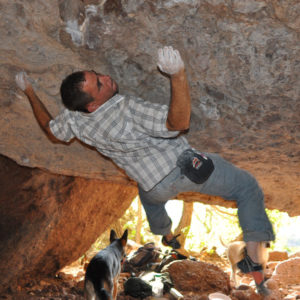 Scott Roberts, began working in the climbing industry in high school at the Ibex Climbing Centre in Kansas City. Right after high school he was a climbing guide for Philmont Scout Ranch. He then started teaching the rock climbing course at New Mexico Tech. Currently he teaches 8 rock climbing courses at NMT, with about 70 students per semester.
AMGA Single Pitch Instructor

WMI

WFR
How and when did you get started climbing?
I started climbing in 1991. It was pretty great once my parents allowed me to finally go climbing with my older brothers.
What is your favorite style/type of climbing?
Bouldering, and sport climbing
What makes climbing/guiding so special to you?
Climbing has always been my form of meditation. The time I spent climbing allows me to disconnect from what is going on in life, which really allows me to come back to reality with a different perspective.
Guiding, and instructing has always been one of my favorite aspects of my climbing career. I have always found great rewards in seeing folks experience, and improve in climbing.
What are your most difficult/proudest/favorite sends?
Steal Your Face at The Box is probably my proudest send. I worked on that boulder problem for about 9 years before I got the FA. I didn't really think I would do it, but that never really mattered too much.
What are some goals for your future?
My climbing goals are to climb a lot, and keep having a blast with it.  
What do you feel comfortable guiding?
Probably anything but big walls
Do you have a favorite quote or personal mantra?
Seven days without climbing makes one weak!
Name 5 things that make you happy.
climbing

exploring for new climbing areas

working as installation supervisor for Futurist Climbing

my friends

my dogs
Tell us something about yourself that isn't climbing related.
I am a licensed contractor in NM, and specialize in custom painting, plastering, and finish carpentry.
Tell us something about someone else at Suntoucher that you find interesting.
After 25 years of climbing, I have not met a more experienced climber than John Kear. I find that pretty interesting.